Ben jij al helemaal klaar voor 2022? Misschien kan de Relax Mama gezinsagenda 2022 of de gezinsplanner helpen. De agenda en planner hebben dezelfde opzet als de vorig jaren, maar de kleuren, plaatjes en teksten zijn natuurlijk helemaal nieuw en fris voor het nieuwe jaar. De agenda en de planner zijn online zijn nu nog online verkrijgbaar.
In zowel de agenda als de planner heb je naast ruimte om al je afspraken per persoon bij te houden, ook iedere week een Relax Mama-uitspraak, een Relax Mama-rijtje, een weekmenu of ruimte voor een extra aantekening. In de agenda vind je bij het begin van iedere maand ook nog een dubbele pagina met een artikel, illustratie of spreuk. 'Onze' Sanne hielp me ook dit jaar met alle teksten.
DIY voorkant: plak je eigen gezin
Net als bij de vorige agenda's kun je ook nu weer op de voorkant je eigen gezin samenstellen met de stickers die je erbij krijgt. Heb je geen man maar een vrouw? Plak die vent weg en plak er een dame over. Ben je alleenstaand? Plak een glas wijn of snoepje over die partner. Heeft jouw man een bril? Een baard? Of is hij kaal? Heb je vier kinderen of juist twee? Met de stickers achterin de agenda en de planner is dat dus allemaal aan te passen. En dan heb je ook nog een vel met stickers die je kunt gebruiken voor de tandarts of voor een date met een vriendin.
Zo ziet de binnenkant van de gezinsagenda er uit: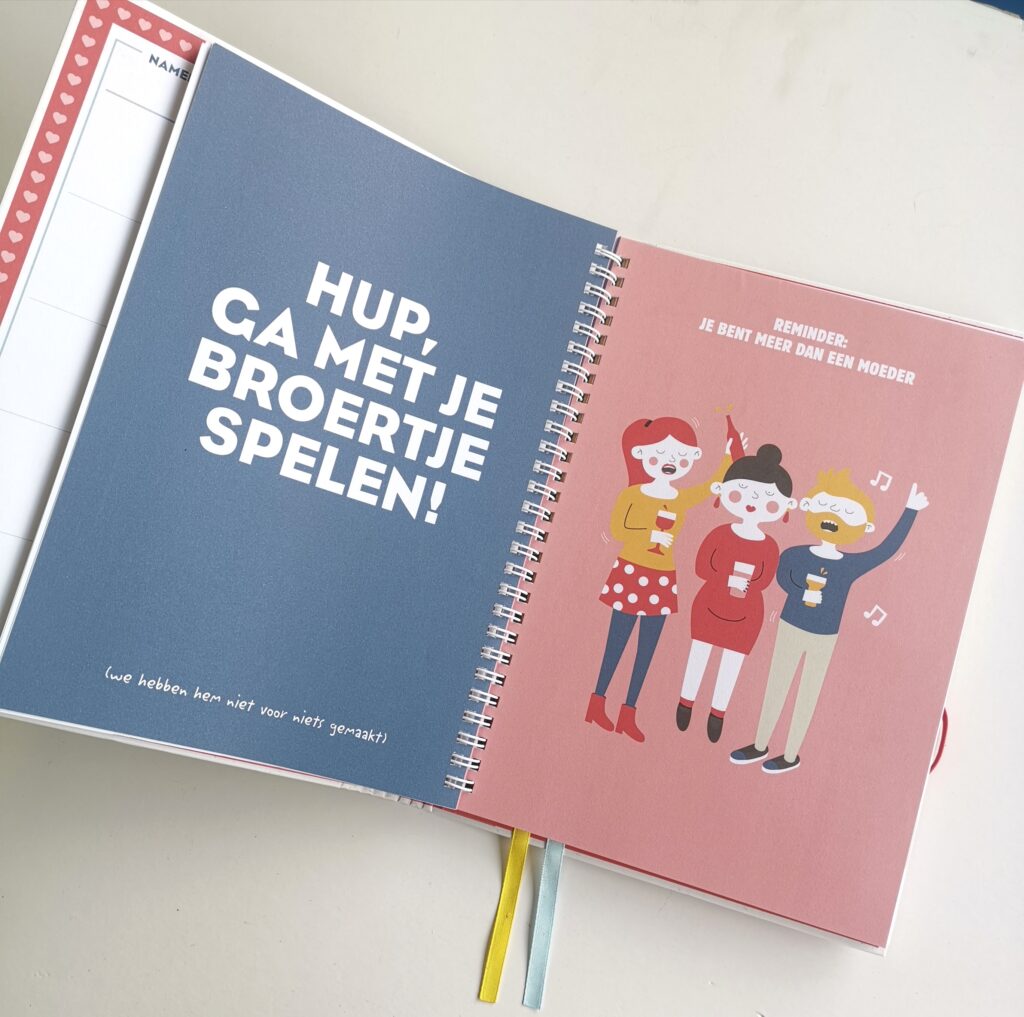 Met de handige lintjes kun je bijhouden in welke week je zit.
En dit is de binnenkant van de planner:
Insteekhoesjes
Als klap op de vuurpijl hebben zowel de agenda als de planner ook nog insteekhoesjes waar je briefjes of kaartjes in kunt bewaren. Nou… als dat niet handig is ;).
De gezinsagenda en de planner liggen vanaf nu bij verschillende boek- en kantoorwinkels (bijvoorbeeld bij Bruna en Primera) en ze zijn natuurlijk ook online te koop: de agenda vind je hier, en de planner vind je hier. Beiden kosten ze €16,95.
Had je de maaltijdplanner en dagplanner al gezien?
Als je dan toch zo lekker aan het plannen bent… had je de Relax Mama Maaltijplanner en de Relax Mama Dagplanner al gezien? Die zijn ook zo leuk én handig geworden.
Meer lezen over de maaltijdplanner? Daarover schreef ik dit blog.